This photograph entitled Blackpool Revellers is semi-inspired by the article Personal Projects Can Make A Difference written by Grant Scott for Professional Photographer magazine. The article inspired me to take a closer look at the current direction of my photographic practice and, more importantly, to continue shooting new images for my personal projects.
Like many photographers, personal work is the driving force behind my creative inclinations and an important aspect of any artistic practice. As Grant Scott says in his article, "If you're not shooting, your work isn't progressing". Simple as that.
Needless to say, I was throughly excited to get a free afternoon to photograph the people of Blackpool enjoying the glorious sunshine yesterday and get back into my element.
One of my main reasons for staying in Blackpool after completing my photography degree and MA course is that I'm utterly passionate and inspired by the diverse subject matter that the town has to offer.
All you have to do is look for it and, to be honest, you don't have to look too far.
The area between North Pier and Central Pier has always been one of my favourite locations for taking photographs in Blackpool as its what I consider to be the liveliest and most popular part of town for tourists and locals alike. In particular, the juxtaposition between the built environment and the people engaging within it has been a continuing feature of the photographs I've produced throughout this series.
Yesterday, when I spotted this group of people sitting opposite the amusement arcade Coral Island, I noticed this juxtaposition and began taking a few photographs. The facade of Coral Island, with its prominent pirate skull (complete with eye patch), makes for a rather surreal backdrop for the people sat in the foreground.
The title of this photograph is a somewhat tongue-in-cheek comment on the expectation one may have when imagining modern day Blackpool Revellers.
Blackpool Revellers Camera Metadata
Camera: Canon EOS 40D Digital SLR
Lens: Canon EF-S 17mm – 85mm IS USM
ISO: 125
Focal Length: 85mm
Shutter Speed: 1/160th sec
F-Stop: f/14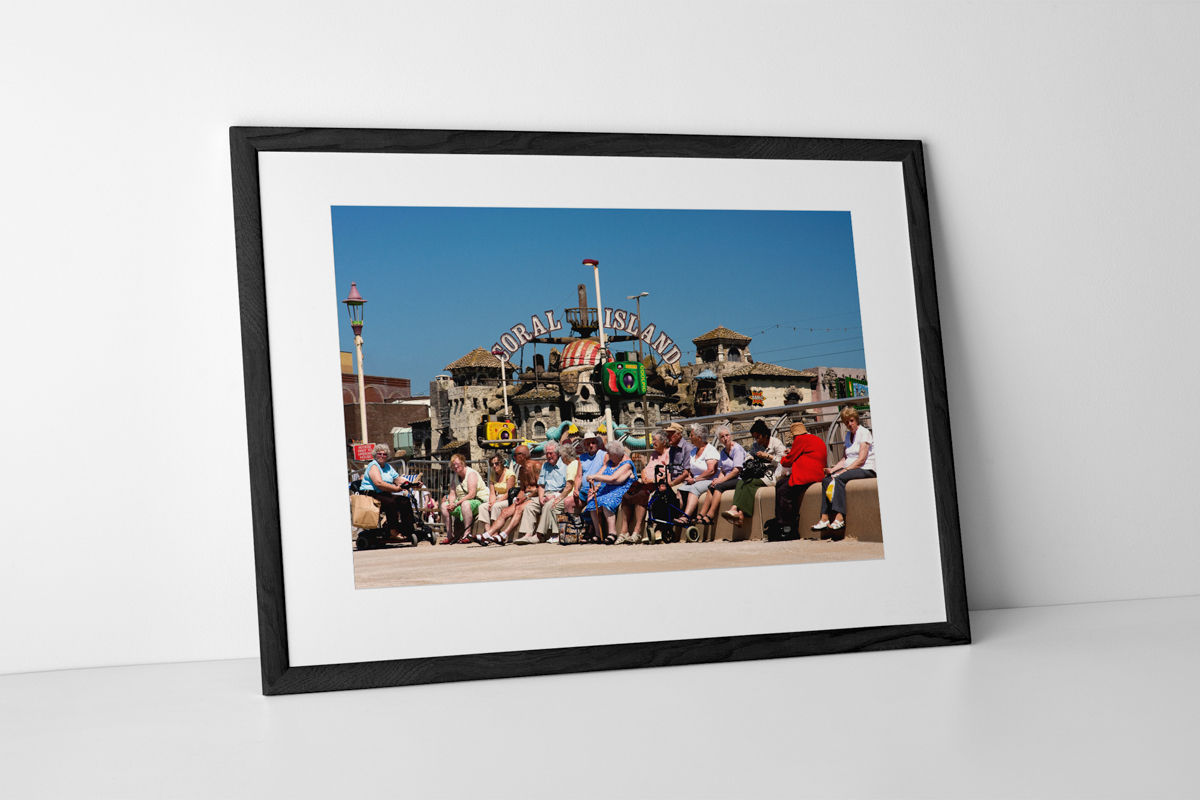 Blackpool Revellers Print Black Frame
Photography By Yannick Dixon
Blackpool Revellers Limited Edition Print
Limited Edition Prints by Yannick Dixon Photographic Works are the perfect way of starting an affordable art collection of your own or as a gift for that special someone in your life.
These highly collectable signed prints are numbered and professional printed to the highest photographic standards using the Giclée printing process.
If you like the photograph featured on this post please share it with your friends and followers online. As always, if you have any questions or wish to leave a comment I'd love to hear from you.